News

Published on December 21st, 2020
Merry Christmas from NYBBGB
2020 has been a year we will remember for many reasons; the same is true for the National Youth Brass Band of Great Britain. It has been a year of firsts.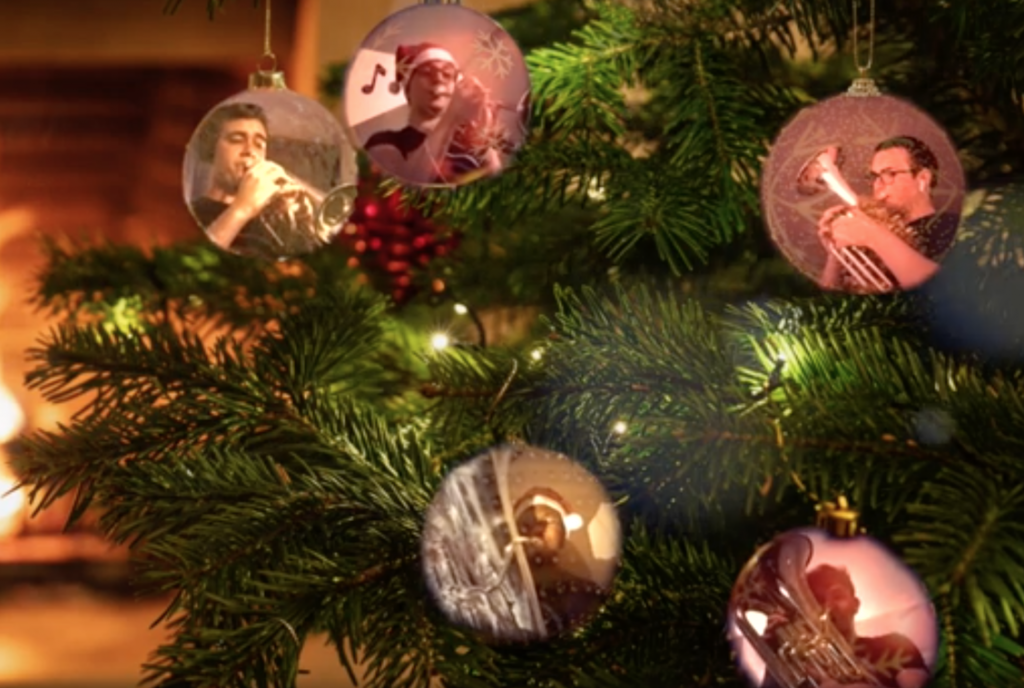 2020 has been a year we will remember for many reasons; the same is true for the National Youth Brass Band of Great Britain. It has been a year of firsts.
We started the year wondering what COVID-19 was and how it might affect what we all love – making music. It very soon became clear that it was to have a huge impact on music making and, with a heavy heart, we made the decision to cancel the Easter residential course. This was the first time (as far as I'm aware) a course has been cancelled in the band's 68 year history.
As we moved through lockdown we all got used to Zoom, a tool many of us hadn't even heard of just a few months before. And then it happened! Music making transferred from the stage to the screen but with a difference; individuals performing from home in little boxes with technology blending it all together to make a performance.
In early Summer we decided that, if playing together live was still not going to be possible, we would give members the opportunity to do so virtually. We used our new found technological skills and [email protected] 2020 was born and along with it, a new brand identity which was fresh, hopeful and inclusive. In July we held virtual courses for both the Youth and the Children's Bands, led by Bramwell Tovey and Nicholas Childs. For the first time ever we staged a joint concert performance on Facebook and Zoom. What a success that was, with over 11,000 hits from across the world. Members also told us they enjoyed it and that we should also keep the new branding, so we have.
In August we implemented our new strategy, "the NYBB experience" and recruited a fantastic new management team to deliver it. In just a few weeks I was joined by Louise Shaw as Funding Development Manager, Ben Stratford as Marketing and Communications Manager, Malcolm Marsden as Finance Manager and, last but not least, Richard Milton as Operations Manager taking over the reins from Alun Williams who had kept the band running since the passing of Philip Biggs twelve months earlier.
In October we held virtual auditions alongside a series of virtual master classes; another first. We wanted auditions to be a positive learning experience, so irrespective of whether students reached the standard on the day or not we ensured everyone came away with written feedback, tips and hints to help them develop. You told us in the post-event satisfaction survey that you really liked this new approach, thank you.
At the end of October we announced that Bramwell Tovey would be standing down as Artistic Director, with immediate effect, to focus on his health. We will all miss him immensely.
Three weeks ago we were delighted to announce that Robert Childs had agreed to be the band's first ever Director of Artistic Planning. Bob is tasked with bringing a wide range of world class conductors, composers and soloists to the band to make our courses and events better than ever for our members and audiences.
Another first this year will be working in partnership with the Royal Marines Band Service over the Christmas break to produce a joint performance of Dan Price's Andromeda. I very much look forward to seeing and hearing the result of this brilliant collaboration.
So that's it, 2020 – what a year – a year of many firsts! I believe we will come out of it stronger and we've learned lots of new things that will make us better for the future. We have some very exciting plans for 2021, not least for the Easter and Summer courses which we will be announcing in the New Year.
But for now, on behalf of all the staff and trustees of the band, a huge thank you for your continuing support. We wish you a very happy and safe Christmas and look forward to seeing you all face-to-face in 2021.