News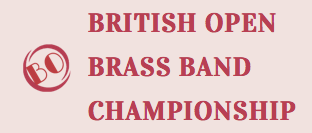 Published on May 26th, 2021
168th British Open
Following the government's latest announcements and a meeting with the venue management last week, the organisers have confirmed that the 168th British Open Brass Band Championships will be held as planned at Birmingham Symphony Hall on Saturday 11th September 2021. As before, the contest will be supported by Besson.
Tickets will be going on sale at Symphony Hall online box office www.thsh.co.uk at 10am on Thursday 27th May for those within the British Open 'Loyalty Programme', and on general sale at 10am on Friday 28th May.
The Test Piece is Edward Gregson's newly commissioned work, 'The World Rejoicing' which will be making its long-awaited world premiere at Symphony Hall. The work represents an important collaboration between the Open, and the national contest organisers in Belgium, the Netherlands, Norway and Switzerland who have also set the piece for their forthcoming championships.
As this will be the first top class brass contest in a major auditorium taking place in the UK since 2019, the title is particularly poignant and this new work will provide another fascinating musical challenge for the audience to enjoy. There will also be a Gala Concert at Symphony Hall on Sunday 12th September featuring Cory and Black Dyke to make this a truly memorable brass weekend.
'Contest Organisers Martin and Karyn Mortimer said 'We are delighted that after this unprecedented and challenging period we can celebrate the return to contesting. We look forward to seeing the bands and supporters in Birmingham for what promises to be an exciting day of music, and an opportunity to meet old friends once again.'