News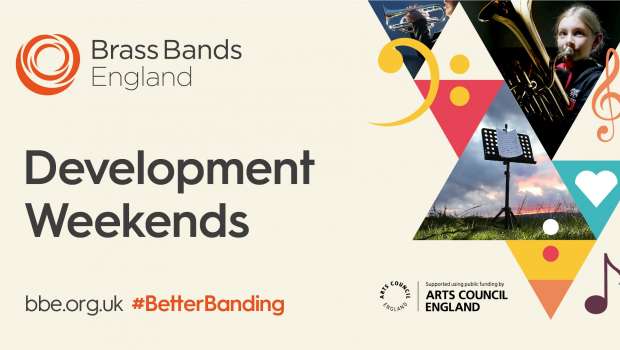 Published on September 23rd, 2021
Development Workshops Back on the Road!
Brass Bands England's development programme is ready to tour England once again.
BBE's new 'Development Weekends' will see its popular training days return to towns and cities up and down the country.
Workshops will include Player Development, Artistic Development, Band Governance and BandSafe training. Workshop leaders will include Philip Harper, Roger Webster and Paul Cosh.
The new weekend format will allow delegates to pick and choose from what's on offer, attending multiple workshops should they wish to do so.
Online training will also continue, with autumn development webinars taking place on topics including deaf awareness and score preparation.
BBE's Education and Development Manager, Sarah Baumann, commented: "After a long wait, we are incredibly excited to be taking our workshop sessions back out on the road. Although we're looking forward to seeing BBE members in person again, we will still be continuing to deliver much of our training online, continuing our Webinar programme across the next year and making sure our team is available for regular Zoom drop-in sessions on a range of topics."
Starting off in Cornwall and Leeds, events will travel around the country throughout the coming year. Dates are currently confirmed until the end of 2021, with 2022 events and locations to be announced in the coming months.
Upcoming workshops and webinars:
Deaf Awareness with Sean Chandler (Online)
Thursday 7 October – 19:00 – 20:30
Band Governance Bootcamp (Online)
Saturday 23 October – 10:00 – 16:00
Player Development with Roger Webster (Cornwall)
Saturday 6 November – 10:00 – 16:00
Artistic Development with Philip Harper (Cornwall)
Sunday 7 November – 10:00 – 16:00
Score Preparation with the Brass Band Conductors Association (Online)
Tuesday 23 November – 19:00 – 20:30
Player Development with Paul Cosh & Roger Webster (Leeds)
Saturday 4 December – 10:00 – 16:00
Band Governance Bootcamp (Leeds)
Sunday 5 December – 10:00 – 16:00
BandSafe (Leeds)
Sunday 5 December – 17:30 – 21:00
Player Development
BBE Player Development workshops offer excellent value for money and a worthwhile networking opportunity with bands in the local area. Usually delivered by both Paul Cosh and Dr Roger Webster, the workshop day focuses on the essentials of brass playing, exploring practical exercises to improve individual playing standards and thus contributing to overall improvements in bands' performances. The afternoon focus is on mental and physiological aspects of efficient practice and performance methods.
Player Development is a full day workshop costing £15 per attendee for BBE members, and £25 per attendee for non-members.
Artistic Development
BBE Artistic Development day consists of practical workshops led by Cory Band's conductor Philip Harper, which looks to demystify the subject of Artistic Direction. Philip breaks down what it means to be an Artistic Director, exploring concert planning, collaboration, audience development and the nuts and bolts of running a successful rehearsal. Philip will discuss the importance to artistic leaders of self-learning, curious listening and wild imagination, as well as covering the basics of 'on the ground' artistic direction as a conductor working with bands in rehearsals. Each topic will be illustrated with practical examples, including a live rehearsal session with a band.
Artistic Development is a full-day workshop costing £15 per attendee for BBE members, and £25 per attendee for non-members.
Band Governance Bootcamp
Band Governance Bootcamp is an intensive one-day training course led by the Brass Bands England team, covering the essentials for good governance for brass bands. Alongside looking at legal responsibilities and requirements, attendees will be supported to identify and shape the future aims of their band. This training is ideal for a Chair, Treasurer or key decision maker of a band. To get the most out of the day we would recommend more than one person from the same band attend Band Governance Bootcamp.
Band Governance Bootcamp is currently only available to BBE members, at a cost of £50 per attendee.
BandSafe
BandSafe is an in-depth training course developed in partnership with the NSPCC and tailored to the challenges you might face in a band or voluntary music-making environment. Designed to accompany BBE's BandSafe Toolkit, this online course will provide you with up-to-date knowledge in safeguarding procedures and practical support in developing policies for your music group. Together, the course and toolkit can give you confidence in your safeguarding practices and ensure that your arrangements are in line with national guidance.
BandSafe training courses are available at a cost of £60 per attendee for BBE members or £100 per attendee for non-members.
How to register
BBE members can register for all the above events via the Brass Bands England training and events page.
BBE membership starts from just £25. For information on joining please visit BBE's join Brass Bands England page.