News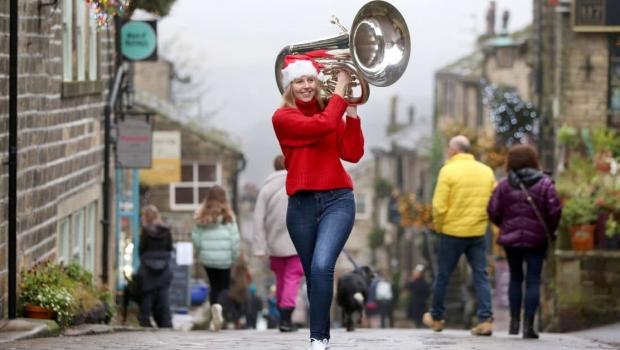 Published on September 28th, 2021
Benefit from crowdfunding this Christmas – register now to take part
Following the success of its 2020 #SaveOurBrassBands campaign, Brass Bands England is to run a new large-scale crowdfunding campaign for the banding community.
#BrassBandsAtChristmas is here to help you raise funds for your band, as well as provide a chance for more people to enjoy brass band music during the festive season. The campaign will launch this Monday 4 October at 7pm via a free webinar and Facebook Live stream.
Both BBE members and non-members will be able to participate in the campaign, benefiting from its promotion of banding as well as accessing support from the BBE team and project partners, Crowdfunder, the UK's number one crowdfunding platform. Those planning on participating can also join the campaign's Facebook Group to share progress, updates and ideas with other bands taking part.
Following the launch, further free coaching sessions will be delivered with Crowdfunder to help bands create and promote theirCrowdfunder page, where they will receive their #BrassBandsAtChristmas donations.
Last year's campaign was a roaring success, raising over £140,000 for brass bands across the UK, and the team are confident that bands will be able to achieve even better results this time around.
Sarah Baumann, BBE's Education and Development Manager, commented: "We know that bands will need some time to shape their own fundraising campaigns, so I do hope you'll be able to join us at the launch event to kick-start your planning now. The further Crowdfunder coaching webinars will also provide an excellent opportunity to benefit from fundraising advice from their resident experts. Last year's campaign generated some amazing press coverage for bands up and down the country, so remember – the sooner your Crowdfunding page goes live, the sooner BBE will be able to start promoting it!"
Duncan Parker, Crowdfunder's Charity and Philanthropy Director, added: "We are thrilled to be working with Brass Bands England again to support bands to engage with their local communities through fundraising. Some of last year's Rewards – offered up by bands in exchange for donations – were truly unique. I'm really looking forward to seeing what bands come up with this time around. Here at Crowdfunder we are passionate about projects that make a difference and we know how important and central bands are to so many communities nationwide"
A further layer of fundraising support will be available to BBE members, including a Charity Status Q&A session on Monday 11 October, and a Members Resource on accessing funding as a charity.
Launch and Coaching sessions
#BrassBandsAtChristmas – 2021 Crowdfunder Launch Event
Monday 4 October at 7pm. Register for the Zoom webinar or stream live via the BBE Facebook page.
Crowdfunder Coaching – How to make a great crowdfunding page
Wednesday 20 October at 6pm
Register for the Zoom meeting
Crowdfunder Coaching – How to promote your crowdfunding page
Zoom Meeting – Wednesday 3 November at 6pm
Register for the Zoom meeting
What is Crowdfunding?
Crowdfunding is a different way to raise money for good ideas. People are increasingly bypassing more traditional funding routes such as bank loans or grants and turning instead to the people around them and in their community to support their venture.
About Crowdfunder
Crowdfunder is the UK's largest crowdfunding platform, specialising in community, social enterprise and start-ups. To date they have raised £200 million for crowdfunding projects.