News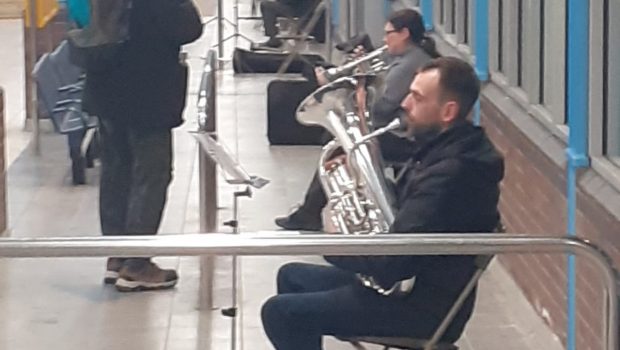 Published on October 26th, 2021
Brass Playing Has No Bounds
Over the past few months Maltby Miners Welfare Band has been working on a special commission "Interchange" by Mark Fell, a multi disciplinary artist based in Rotherham. The 3 hour piece was performed on Saturday 16th October in Sheffield's Pond Street bus station as part of the city's No Bounds Festival.
Our players were distributed around the station, playing to both a bemused public waiting for buses and a very appreciative Festival audience.
Included in a 5 star review in Monday's Guardian, by Daniel Dylan Wray, of the Festival
"A three-hour performance by the Maltby Miners Welfare Band takes place throughout the hub, with gently thundering brass instruments booming around the slightly ghostly, echo-laden station. There is a quiet melancholy and a profound emotional resonance to the performance"
This has been one of the most exciting and challenging projects we have worked on and has shown that whilst brass has a rich heritage it also has a future.