News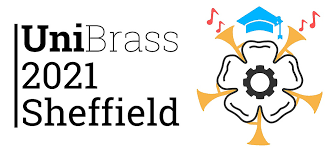 Published on December 6th, 2021
UniBrass is back!
UniBrass is back at the University of Sheffield on Saturday 5th February 2022 for its biggest ever contest!
The organisingcommitteeispreparingtobringUniBrassbackandbetterthaneverafterour first ever hybrid contest last summer! The contest will consist of two sections, the Trophy and the Shield, with bands competing to be crowned champion of each. This year features a record entry of 23 bands, all performing 20 minute programmes, with the aim of entertaining the audience and adjudicators alike. The Trophy section features 11 bands and will be hosted in the Octagon Centre, a large performance and events venue, connected to
Sheffield's award winning Student Union (voted best Student Union in the UK for over ten years consecutively). Twelve bands will compete in the Shield Section which will be held in the University's Drama Studio – an atmospheric and intimate venue inside a converted Baptist church. There are also numerous other awards being given out too, such as most entertaining, best soloists, and best student composition.
This contest will be going on throughout the day, and will be followed by a very exciting Gala concert from a number of brilliant acts, including the renowned jazz trombonist Dennis Rollins playing with Friary Brass Band, one of the leading brass bands in the country and London and Southern Counties no.1! This will also be located in the Octagon Centre, so come along for an exciting evening of fun and top quality music making, with a very special collaboration! To find out more about these performers please go and visit their web-pages: https://www.dennisrollins.com, https://www.friarybrassband.com
On top of this we are very excited to announce that we will be hosting two new events at UniBrass this year; an Ensembles section and an outdoor performance from each competing band. The Ensembles section will be held in the Students Union Auditorium and will be a more casual event for smaller bands and ensembles who can stray from the brass banding tradition to suit the makeup of their bands. Whilst participants will be awarded Gold,Silver,orBronzeawards,theadjudicatorswillbe more focussed on giving constructive and encouraging feedback. The outdoor performances are free performances for everyone to enjoy! They will be held throughout the day, on the Concourse outside the Students' Union where you will be able to enjoy a hot drink as you listen, connecting as many people as possible to the wonderful world and music of Brass Banding that has been so important in the history of this City and Region!
In our 12th year of UniBrass, we have come a long way since starting in 2011. The contest was first introduced for students at university, as a way of bridging the gap between youth and adult banding. Since then, it has encouraged universities across the country to create their own brass bands and given them a space to meet other brass band players and musicians. There are now over 750 student musicians who come along to the contest each year, hoping to impress the adjudicators, have fun, and be a part of the student brass banding community. There are also opportunities this year for student adjudicators to work alongside and learn from the experts who will be judging the competitions.
Last June we had the challenge of organising a hybrid brass band that catered for the difficulties that Covid-19 posed. In this, some bands competed online, while most came to play socially distanced and outdoors. We were overjoyed to be able to enjoy some fantastic music again! But this year, we can't wait to be welcoming everyone back in person: there is nothing better than the raw, powerful sound of live brass!
More information will follow on the UniBrass website and social media: https://www.unibrass.co.uk/the-contest,https://www.facebook.com/unibrass https://www.instagram.com/unibrass