Reviews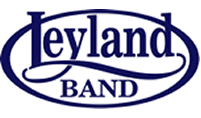 Published on May 16th, 2018
Review: Leyland and Lancashire Youth Brass Band
Sunday 13th March saw youth and experience combine, with a fantastic joint concert between Leyland Band and Lancashire Youth Brass Band held in Chorley Town Hall.
Prior to this performance, members of Lancashire Youth Brass Band had the opportunity to learn from Leyland principals Iain Culross and Chris Doran in a masterclass before taking to the stage the following day. Playing to a full house on a beautiful afternoon, the setting was perfect for a brilliant afternoon of music-making.
Future Stars
Under the direction of Helen Minshall, Lancashire Youth Brass Band filled the stage in huge number; a sign of the band's popularity and progression. The sound produced matched, with the band filling the hall with a selection of marches and light numbers. On his feet to showcase soloist flair was Thomas Cobham, the band's Principal Euphonium, who played Blaydon Races. It was announced that Thomas had recently received an invitation to study Music at the University of Huddersfield in September, and his potential was clear for all to witness. LYBB closed in a fitting manner, tackling Doyen, which depicts the journey of a Leyland Vehicles coach; the band had clearly worked hard to produce a performance of high acclaim of this challenging piece.
Inspiring the Next Generation
Following the performance of Lancashire Youth Brass Band, it was the turn of Leyland Band to take to the stage to deliver a musical masterclass. Opening their set with famous march The Wizard, Leyland gave a nod to the Whit Friday marches which will be taking place later this month. Having tutored the day before, Iain Culross demonstrated his musical capabilities by producing a show-stopping rendition of Boehme's Trumpet Concerto. Aspirations became more real for LYBB players, as James Nash performed a flawless performance of Flowerdale. Growing up in Lancashire himself, James had benefitted from the work of Lancashire music initiatives only a few years earlier. No Leyland concert would be complete without a solo performance from Bb Tuba player Bill Carter, who was keen to reward the Leyland patrons after receiving his recent award.
Massed Band
To close, Lancashire Youth Brass Band re-joined Leyland Band on stage to end the afternoon with a sensitive rendition of Crimond, in addition to tackling the virtuosity of Riverdance. After the performance, Helen Minshall spoke about how grateful she was with the support and encouragement her band had received from Leyland Band; a sentiment echoed by Leyland as they hoped to see LYBB players within their ranks in the future.