Reviews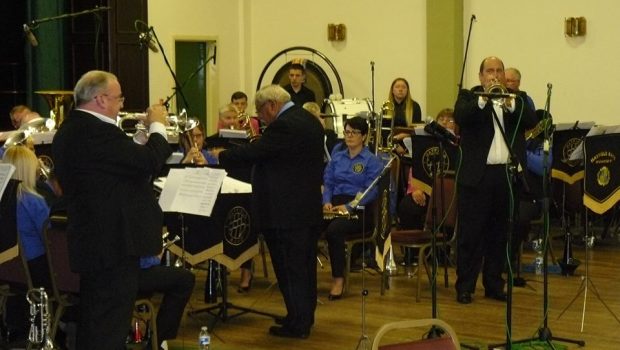 Published on July 31st, 2018
REVIEW: Legends In Brass Concert
In 2016, soprano player, Mike Kilmartin toyed with the idea of organising a `benefit` concert and this came to fruition in July 2017 when he produced the "Legends in Brass" concert, which was such a success that he immediately began organising another one.
The second one took place on Saturday 21st July and this year. The Legends were Mike Kilroy, Mark Walters, Kevin Crockford, Kevin Holdgate  and of course Stan Lippeatt, the musical director of the newly named Hatfield and Askern Colliery Band, who accompanied these wonderful soloists throughout the evening.
Also amongst the ranks were a few of the wonderful ladies from Boobs & Brass, including Anita Newman from the South Coast who is somewhat of a legend herself having fought various cancers for the past six years – her fight is ongoing.
The audience were treated to a varied programme, the first half featuring Kevin Crockford with his beautiful rendition of `The Nuns Chorus`, Mark Walters playing a new arrangement of Michael Buble`s  `Feeling Good` and then  they joined forces for the lovely duet `Pie Jesu`.
Next up was Kevin Holdgate, sporting a new look with his added facial feature!!! His version of Hogi Carmichael`s `The  Nearness  of You` was sublime. Not to be outdone, the rest of the trombone section joined Kevin to play his arrangement of Chattanooga Choo Choo.
The interval brought a well deserved rest for the players during which there was a magnificent raffle with 29 prizes, the sale of the auction lots – and – pie and peas!!!!
With everyone refreshed, the second half featured the technique of Mike Kilroy – his fingers were on fire getting round all those notes in Carnival Cocktail which was followed by the beautiful Baer Sager – `The Prayer` which he played as a duet with Stan on his flugel.
The concert had been titled – "Remembering" and as the band played Mike Kilmartin's arrangement of `The King of Love`,  we watched a screen presentation of much loved people from the banding world who had recently passed away including  Alan Needham, "Owd Bob" Davidson, Graham O`Connor, Ken Hirst, David Morris, David Horsfield, Goff Richards, Bryan Smith and many more. Very emotional but so great that they were being remembered… (shown below)
A fantastic night of music making and what a privilege it was to share the room with these `Legends` and  like minded  people who give so  generously to  help others. The charities benefitting  this year are  Breast Cancer Now (through Boobs & Brass) and The Chatsfield Suite – a purpose-built day unit for the delivery of haematology, oncology and chemotherapy services – based at Doncaster Royal Infirmary. In total, £2175.36 was raised and will be donated in equal amounts to the two charities.
A huge `Thank you` goes to every person who made this concert the great success that it was but special thanks to Mike Kilmartin who has worked so hard to make it happen. Well done Mike!!!
As Stan reminded us at the conclusion of the first half when the band were about to play John Miles` much loved piece `Music `   –
"Music  was my first love, and it will be my last, Music of the future and music of the past, To live without my music would be impossible to do, In this world of troubles, my music pulls me through"
So true for so many!!
– Margaret Betts