Live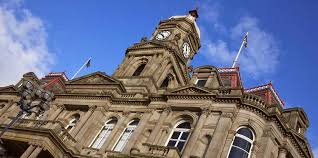 Published on November 3rd, 2019
LIVE: Dewsbury YHBBA Contest
Live comments:-
Results:
Special Awards:
Best Conductor – Skelmanthorpe Band
Overall Winning Band – Skelmanthorpe
Yongest Player Award – Section 3 – 8 year old Percusionist with Eccleston Brass Band
Championship Section.
1. Skelmanthorpe
2. Westoe Brass
Best Instrumentalist – Euph – Westoe Brass
Section 1.
1. Lindley
Best Instrumentalist – sop – Lindley
Section 2.
1. BD1 Brass
2. Horbury Victoria
3. Dronfield
4. The Marple Band
5. Barnsley Brass
Best Instrumentalist –
That's all the playing done for this years YHBBA 2019 Dewsbury contest. In this section we go for
1. Skelmanthorpe
2. Westoe Brass band
Its now down to Alan Morrison to decide…
Results to follow.
2. Westoe Brass band – La Davina Commedia
Powerful opening to this piece but has big dynamic contrasts..
Some big powerful sounds let down by a few intonation slips in top register.
Good ensemble balanced and style. Well played sop unlucky on a few of the higher notes.
Well played Euphs. Basses not quite together with each other.
Nice sounds from Trombones. Ensemble loud dynamics we lose some of the clarity. Nice dim around the band to close 1st section.
Nice balanced cornet muted section. Well played euph despite a little intonation blip. Flugel solo is good too.
Maybe nerves but band struggles in quiet section with intonation around the stand. As it gets louder though confidence shows and a warmer stronger sound appears.
Band has a big dynamic range and we do get the clarity this time but a slight tuning/intonation issue as it quietens appears.
some nice melodic technical playing through this quiet passage but back row and Xylophone not quite together. Nice sound from front row and euphs.
The faster and louder final section takes off with some good detail and finesse if not a little loud to close as you lose the clarity.
Overall. A performance that promised so much but did not really deliver to what we would expect from a championship section band. Intonation issues and overblown dynamics marred the performance. Well played soloists especially Euph.
1. Skemanthorpe – Tallis Variations
Very Bold and stylish opening with some quality sounds. Some really good ensemble work with a big dynamic sound where we get all the detail.
Slight intonation in middle of the band doesn't detract. Good solid bass end sound gives a good foundation. Well done euphs and bari's. Flugel plays solo well too.
Good technical opening movement that flowed well and had style and character.
Good opening to second section, with a lovely Euph sound accompanied by a well balanced ensemble. Some really good playing and not much can pick up being wrong.
Sop sings beautifully as a calibre player she is known to be.
Well done Top Man and solo horn. Euph has a fantastic sound and style with excellent use of dynamic phrasing. Leading back into the cornet who again plays with sweet style and character.
The band are working very hard, and the quality is showing. Well done top chair. Euph and horn also shining too.
The dynamic contrast is massive and we don't lose any quality. Fantastic band quality to close very atmospherical.
Overall. A very well performed test piece which you would expect in the championship section. Some really good soloists. A performance not without criticism as intonation in parts wavered. A performance they should be happy with.
Championship Section.
1. Skelmanthorpe Band – Tallis Variations
2. Westoe Brass Band – La Divina Commedia
Only one band in that section so we do go for Lindley winning it. Have know an adjudicator say to a band they did not meet the required standard to win in a one band section before but on this occasion it was definitely a winning performance.
1. Lindley Band – The Land Of The Long White Cloud
Good Confident opening with some good stylistic rhythmic playing. A quality sound from the band with good contrasts in dynamics. Nice euph duo sound.
Intonation in trombs waver but doesn't take away from the quality of the band sound.
conductor is smiling and seems happy so far… or was he just smiling at the bells player….?
Feel sorry for the band who are playing extremely well, when a member of audience walks in and starts talking to someone quite loudly and then he walks out after a  minute of talking.
good Pandora control and style well played euphs and cornets. Some really good band style and accuracy with big contrasts in dynamics and style that work well. Well done horn and sop.
Nice dynamic contrast from back row through euph and horns into a well played sop solo. Cornet adds colour and warmth with her addition too. Again the 2 blokes start talking quite loudly in the audience during the flugel solo which was played very well.
The band are playing well and showing the quality they have. Some very good ensemble work with good style and well delivered by everyone. Good cornets and horns in muted section.
The band seem really energised during this piece as the quality is showing and its a very good performance.
Overall. A well thought and and controlled performance with some very good soloists. Dynamic contrasts were there and it should be a performance they will and should be please with. Star player is deffo the Euphonium….
Section 1
1. Lindley Band – The Land Of The Long White Cloud
Results to follow later… but we go for.
1.Bd1
2.Horbury Victoria.
3.Dronfield.
Its all down to the man in the box…. next up Section 1.
5. The Marple band – Trittico
Well controlled bright opening. We lose some of the detail in back row.
Intonation wavers around the band. Slightly overpowering snare drum. Some good ensemble sound into euph solo which is well played.
Good rhythm and style in the next section but we lose some of the clarity. Euph is shining clear clarity and well controlled. Well don top chair.
Dynamics have all been loud so far with not much difference
Well done Euph. Well tried bass. Getting some nice quiet dynamics now with some lovely melodic playing. Sop sings above with determination but has balance.
Dynamics are very loud again leading into the cornet solo, well done cornet and sop.
Horn and euph not together. But ensemble has good sound and style. Well done euph and cornet.
Sop plays well and is commanding so far. Well done lower band on a tricky section with different styles and contrasts going off at once. Again well done sop.
Final section is a little over done and loud dynamics take away the detail and we lose some clarity and get intonation issues creeping through. Percussion not quite together at end. Well done soloists.
Overall. A piece very demanding technically and may have been a little stretch for the band today. Soloists did a fantastic job and the band shouldn't be disheartened and should build on the performance.
4. Horbury Victoria Band – Connotations
Nice opening technically. Marred by little slips in intonation. Well done sop and front row.
Some really good style and ensemble sounds with rich warm tones. Dynamics work well with some really good playing al around the band.
Good style with the effect going around the band. Clear detail and accuracy. Good bass sound and strong middle of band.
Well played so far with each passage producing some lovely sounds being well balanced and directed from MD Duncan Beckley. Well done Top chair.
Nice solo from Euph agaian accompanied by a band not over blown and well balanced. Working those dynamics very well. Well done sop.
Some very good technical playing leading into Bari solo that was well played. Well done cornet, horn and euph.
A good controlled final section. With some very good dynamic control. Nice to hear the detail. Some good ensemble sounds and a strong finish to the piece.
Overall. A performance that was showing quality and style. Some very good soloists throughout. Lots of style and contrasts with dynamics. Will give something for the adjudicator to think about.
3. Dronfield Band – Viking Age
Nice opening well balanced. Euph plays well and has a lovely sound. Dynamics are there but dont have a big contrast. Few slips in intonation on cornets.
Again well played Euph. Some good ensemble sounds and is played well around the stand. Again intonation in cornets are noticeable as are the water bottle drinking noice on back row.
Good dynamic contrast and accuracy into middle section. Well done basses.
A good balanced band sound into the muted cornet section which is marred with inaccuracy and slips unfortunatley form the cornets. Well played Principal cornet despite a few intonation slips it sounded well.
Some lovely melodic playing from the band towards the end. Good control and style and not over blown.
Overall. A performance that wasn't quite up to scratch with others, but a well controlled and styled performance that had quality at times.
2. BD1 Brass – Cry Of The Mountain
Atmospherical opening from BD1 with some lovely bass sounds and cornet and flugel stood at back of stage in the wings to give it more of an effect. And well played to those too.
Some really nice band sounds and ensemble work. Well played cornets. Sop tuning/intonation is out.
Some well worked dynamic contrasts and some very good tromb Euph work which is well balanced. Some very contrasting quiet to loud dynamics and we hear all the detail.
Well played flugel and Euph. Again beautiful sound from the Euphonium lead with passion and enthusiasm from the man in the middle MD Lee Skipsy. Well done sop lets that long high note sing and so does the euph. Fantastic use of dynamics to end the section
Intonation wavers to start the next but the quality of the rhythm and detail is superb. Have to make mention to a fantastic Xylophonist, as throughout the pice so far he's played everything with vigor and determination and accuracy.
The band in this final section are well balanced and show the quality they they have under the MD's leadership and a perfect piece to show off the band.
Overall.  Excellent use of dynamics and technically the best showing and reading so far of the day of any pice. Well done on a great performance and I'm sure this will be up there at the end of day.
1. Barnsley Brass – Rhapsody In Brass
Tentative opening from cornets with a little intonation noticeable…. Euphs not quite together. Good band sound with a commendable cornet solo.
Good use of dynamics and contrast. Lovely Euph sound emanating over. Well done front row and sop.
Powerful Dynamics to close the movement with a full band sound.
Lovely sound from the horn in the 2nd movement with rich tone and shape.
Intonation wavers in trombs, made up for their trio section that leads to cornets with some good detail.
Nice use of dynamics to accompany the Nice shape and style from Euph.
Nice cornet, sop, rep trio. Well done sop. Movement marred by intonation and the odd blip in lack of concentration.
Well done Solo horn to open 3rd movement. Good band sound and ensemble work. Band seems to like this movement as its flowing and confidence seems to be abundant here. Unlucky sop. Well done Euphs.
Despite a few intonation blips its sounding well and in sections and the band show some of the quality they have.
Some loud dynamics in final section which distorts the quality and we lose some of the detail.
Not an easy own choice test piece marred by intonation and loud dynamics. Band had a good sound in places and showed what they could be capable of.
Section 2
Adjudicator Mr Alan Morrison
1. Barnsley Brass – Rhapsody In Brass
2. BD1 – Cry Of The Mountain
3. Dronfield Band – Viking Age
4. Horbury Victoria – Connotations
5. The Marple Band – Trittico
Section 3
1. Oughtibridge – Hollywood
A really good start, definitely got the Hollywood razzmatazz!!!
Nice sound on the flugel.  Lovely laid back style and a lovely band ensemble.
The band has a good sound and is really playing very nicely, together and in tune.
Just a couple of intonation issues in the cornet section in the slow passage.
Definately got the Hollywood style.
Really good lone percussion, helping to drive the band on to the close.
The band appeared to run out of a little steam at the end, but overall a really good performance.
2. Knaresbrough Silver Band – Variations on Laudate Dominum
Not quite together on the first note, but soon settles and a really good band sound.
A few intonation issues through out the band.
Nice euphs and bari's.
Good close to the first section.
Nice playing from the solo cornet and what a massive euph sound. Unfortunately the muted semi quaver runs in the cornets not together.
In the loud and rhythmic section, the band are so tight, well done.
Nice muted trom
Some of the semi-quaver playing is not together, but the overall sound of the band is a good one and well balanced.
Overall a good performance, spoilt by a bit of intonation and not playing together in sections.
3. Kippax Band – Viking Age
Very Confident bright opening. Big band sounds which are well ballanced and very precise and rhythmical.
Lovely Euph Solo accompanied by flugel and solo cornet. Back row and sop tuning in muted section is out.
Well done perc, it certainly feels the Nordic Vikings are arriving in their long boats.
Some lovely melodic playing even at the loud dynamics. Well controlled and directed with enthusiasm from the MD.
Unlucky perc, not quite together on their passage. Accompanied by a good band sound full of vigor and enthusiasm.
Good style in the cornets accompanied by some lovely short staccato band sounds which fit very nicely together.
Some very big ensemble sounds, sometimes a little over blown that we lose some of the clarity. But leads to a good cup muted cornet section. Nice solo horn and flugel and solo cornet line too.
basses waver slightly with intonation into the quiet passage of a nice sounding principal cornet…. well played…
Lovely band sounds in final section despite a wrong note in the middle of the band. A few tuning slips and intonation in parts are not detracting from a fantastic performance. Well done and well played Kippax.
4. Eccleston Brass Band – Renaissance
Tentative opening from Tromb and Euphs. Band ensemble not quite together. Few intonation/tuning issues around the cornets.
Good use of dynamic contrasts but sometimes lacking sound to go with the dynamic change.
Well done cornets and euph. Glock and cornets not quite together leading into the cornet solo.
Nice to see an experienced percusionist teaching the youngster whilst on stage. Lead by example.
Lovely Euph and flugel sounds.
Some intonation and balance concerns takes away from the finer detail.
Trombs not together and cornets and glock need to be a little tidier when they join on their part.
Good ensemble sound in the final section with some lovely sounds emanation through from Bari and Euph.
Good drive and passion to close if a little scrappy in parts.
Overall a good attempt. Had drive, passion and enthusiasm but blips in intonation, tuning and the odd loss in concentration marred a good band performance and sound.
Overall:
We go for:
1. Kippax
2.Oughtibridge
3. Ecclestone
4. Knaersbrough
Third Section Results:-
1.Kippax
2.Ecclestone
3.Oughtibridge
4.Knaersbrough
Best Instrumentalist – Cornet – Kippax
Section 4
1. Friendly Band – The Journal Of Phileas Fogg
A fine and controlled opening, with a really good  band sound.
A nice relaxed waltz style.
confident solo cornet, well played.
Some good dynamic contrast and the band really tells the story of the journey.
The band is building up to a lovely close.
Overall a really good performance from the band, some lovely sounds and dynamic contrast.
2. Tewit Silver Band – Beecher Variations
A tight and very controlled start by the National 4th section champions.
Lovely ensemble playing, so neat and tidy.
Good bass sound.
Good euph and solo cornet.  Excellent dynamic contrast.
The quiet playing is so balanced and in perfect tune.
Nice sop, flugel, euph and Bari again.
Nice solo horn and flugel.
What a close, what a big sound, but well balanced.
Overall, what a cracking performance, it is so easy to see why this band are National Champions.
Overall:
Two very good performances the bands should be proud of.
We go for
1. Tewit Silver
2. Friendly
Fourth Section Results:
1. Tewit Silver
2. Friendly Band
Best Instrumentalist: Flugel – Tewit Silver
Unregistered Section:
Adjudicator: David Ashworth
Draw:
1. Thurlstone Brass Band – Oregon
2. University Of Nottingham Band – Variations On Laudate
Band 1,
Tentative start, with good well balanced dynamics from around the stand.
Good cornet entry and band build up.
Well controlled rhythm's.  Excellent xylophone playing with a well controlled band sound and contrasts.
Good choice of Tempo, being lead excellently by Mr J Hopkinson.
Couple of blemishes in intonation and tuning from around the stand are taking nothing away from a good performance.
Lovely Euph and Bari sound with good control and style.
Good Style and Tempo again in the quicker section only marred by intonation.
Balance is top heavy in the final section, well done trombs.
To close a little blip in intonation from cornets but a good band sound well controlled and not overblown.
A very commendable opener from Thurlstone.
Band 2.
Opening intonation from trombs is a little lose, strong opening entry from cornets.
Band sound is well balanced if not a little heavy from bass.
Well played Euphs and cornets.
Nice cornet sound in the solo marred only by intonation. Again well played Euph(s). Good sop sound well balanced and nicely in tune.
Cornets not quite together  in staccato section. Well done perc..
Good Ballance and sound with good control and use of dynamics.
Tromb tuning is a little out with mute in solo bar. Well played Euph who has a lovely sound with good shape and control.
Good use of dynamics and balance in cornets in cup muted section which leads to a very nice band sound only marred again by a few slips in intonation.
Euphs and Basses not quite together in final opening section. Well done horns and cornets.
A good sound, balance and contrast to finish marred by a few intonation issues.
Overall:
Good performances from both bands. Will be a hard choice to go for. 1 band had a good performance overall with only a few intonation issues, where as the other had more intonation issues but a bigger sound.
We go for…
1.University of Nottingham
2. Thurlstone.
Unregistered Results:
1. Thurlstone Brass Band
2. University of Nottingham
Best instrumentalist – Euph – University Of Nottingham