Reviews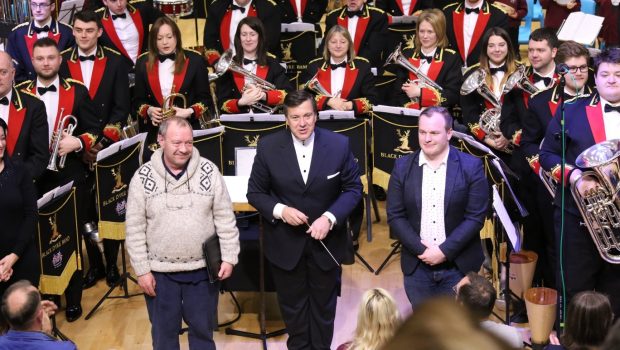 Published on March 19th, 2017
REVIEW: Black Dyke Concert at Tibshelf Community School
It was a packed house on Saturday 18th March at Tibshelf Community School to see Black Dyke Band perform a programme which included two works based on scenes and images from the area.
Digital artist Mik Godley had worked on a series of iPad sketches of Tibshelf which had been set to music by Jonny Bates. The piece included percussion from some of the local youngsters led by Jonny and Simone Rebello, Director of Percussion at the RNCM.
A second new commission, this time from the pen of Philip Sparke, accompanied a video by Martyn Harris and words by the former Derbyshire Poet Laureate, Sheffield-based Matt Black. This depicted sounds and scenes from Tibshelf's past and present.
Black Dyke Band were on good form as always with excellent solos from Richard Marshall (Green Hornet), Zoe Hancock (Children of Sanchez) and in a late change to the running order, Bravura by Dan Thomas.
The Band rounded off the concert with an emotional encore dedicated to absent bass trombone player Adrian Hirst who's currently in hospital following a serious road accident. As Black Dyke MD Nicholas Childs put it, "we can't call it 76 Trombones because there's one missing, so this is 75 Trombones".
The concert was compared by BBC Radio2 presenter Frank Renton and as well as being available to those in the hall, was streamed worldwide via FirstArt's web site.
– David Morris