Reviews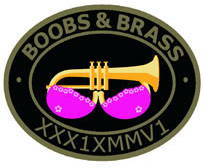 Published on August 4th, 2017
REVIEW: Legends In Brass Concert
Some time ago, Mike Kilmartin spoke to Maggie Bettes (one of the founders of Boobs and Brass) about an idea he had to raise some funds for charity.
He mentioned that he had already been in touch with some "Legends in Brass" – Alan Morrison, Kevin Holdgate, Mark Walters and Steve Sykes who had readily agreed to support his idea and be guest soloists for the concert he had in mind. The host band was to be Hatfield and Askern Colliery Band conducted by yet another "Legend" – Stan Lippeatt.
Mike asked if a few of the girls from Boobs & Brass would like to share the stage for this very special event and I decided that I would like to be on the `other side` for a change and be a member of the audience.
So, last Saturday – 22nd July – Keith and I arrived at Askern looking forward to an evening of entertainment.
The concert opened with a stunning performance by Hatfield Band of Alan Fernie`s composition, `Prismatic Light` followed by his arrangement of `Sing, Sing, Sing`.
Then to the first of the soloists; Mark Walters. Stan, who had lost his beloved mother at the beginning of the year, had asked Mike Kilmartin to do an arrangement of `Time To Say Goodbye` in memory of her and had asked Mark to play this. It was just lovely, and I have to say it brought a tear to my eye,
Next up was Alan Morrison who played his own arrangement of `Georgia', followed by `Twelve Street Rag.` This was another spectacular performance and as someone commented later,  you retired too early Alan!
After this, it was then Kevin Holdgate`s turn to shine, playing a very technical version of `Sweet Georgia Brown` which was stunning! The surprise of the evening (and to everyone`s delight) came when Stan announced that, despite how ill Steven Sykes (Jnr) has been, his new drugs have made him feel so much better and he was well enough to perform  for us tonight. A rapturous round of applause greeted Steven when he appeared and his mum Joanne, took the baton and directed the band through Stevens`s wonderful version of `Stardust`. How proud his mum and dad must be of him. I am in awe of his strength and dignity. Such a lovely young man and what a fantastic player!
Next, followed Mike`s arrangement of `Amazing Grace`. Stan went on to talk about his involvement with Boobs & Brass and how it has become more personal to himself since his daughter, Amy, was diagnosed earlier this year with breast cancer.  Amy was in the audience, looking absolutely stunning despite her recent chemotherapy treatment which thankfully has proved successful with positive results. Stan continued to tell us how Boobs & Brass have adopted ` I`ll Walk With God` as their anthem and this is what was to close the first half. It was obvious, by the end of this very moving piece that Stan was struggling with his emotions, showing just how much all his work with Boobs and Brass means to him.
What a fantastic first half and the second half promised to be just as good, opening up with a rousing rendition of Stars and Stripes. After the awful terror attack at the Ariana Grande concert in Manchester earlier this year, one young man, Andi Cook, was so moved by this terrible atrocity that he wanted to do something to help.  After much thought, he decided to do an arrangement of the hymn tune `Manchester` to try to raise some funds for the charity. Andi had been invited to attend the concert and conduct Hatfield Band playing his arrangement. Proudly, Andi announced that Pennine Music published his arrangement and that bands throughout the UK, Europe and around the world had purchased it and to date it has raised £1900 (now over £2,000 as we publish this article).
It is a wonderful arrangement, still available to purchase and help those victims and families; Hatfield did it proud. I was pleased to be able to speak with Andi after the concert and inform him that the band I play in were part of raising that money and have included it in all their recent performances. Thank you Andi!
As in the first half, the light hearted banter between Stan and the `Legends` continued, each one of them telling tales about each other and a little about what life was like in their days at `Grimey`. They should all get together and write a book (at least the parts that could be published!) I am convinced it would be a `best seller`.
Alan returned to play his own arrangement of Satchmo (Louis Armstrong`s nickname, Satchel Mouth – I learn something new every day!) and yes Alan, you did retire too early!
Nearer My God to Me, another of Mike`s arrangements, came next and I just can`t get that tune out of my head! It was now Kevin`s turn again and he told us how his wife, Anita, was also diagnosed with breast cancer in 2013 and during many hour of sitting in hospitals and waiting rooms he pondered on how he could do something to help and came up with the idea of writing a novel, which he did. He launched it in January of this year, pledging 50% of the proceeds to Boobs & Brass. I was very pleased to receive a cheque from Kevin for £250 which will be sent to Breast Cancer Now and allocated to the research project that we are currently funding. His novel, Jimmy V – The Josephine Baker Affair, about a fictitious jazz trombone player set in the 1920`s is available on Amazon for download to Kindle. A paperback version is also available on Amazon, or from Kevin directly. Thankfully, Anita`s treatment was also successful and everyone was delighted to see her at the concert. Kevin then went on to play the beautiful melody `When I Fall In Love`.
Kevin was then joined by the trombone players from Hatfield Band, Steven Sykes (Jnr) and Dianne Mann (one of the `Boobies`) to play a great version of `The Acrobat` and once again conducted by Joanne. The only downside for the trombonists was that they all had to `cough up` a fiver for the privilege of being in the same team as Steven! I am sure that not one of them had any objection to that and would probably have paid double!
Ken Hirst, the secretary of Grimethorpe for many, many years recently passed away and Mark returned to the solo spot and spoke about his very close connection with the Hirst family and also about the never ending card games on the band bus travelling to jobs, where you could hardly see the cards for cigarette smoke! With this in mind, Mark wrote an arrangement of `Misty` and played it in memory of Mr Hirst. Beautiful!
Steve Sykes (Snr) was to have played two solos in the concert but had given one spot to his son. Steve began his performance by asking the audience to sing, well you had to be there so all I will say is "Far–TING!!!! Hilarious stuff.
He had chosen to play Czardas, or `Charred Arse` as one concert promoter had printed in the concert programme. Well, you will never ever hear such a performance, simply amazing and that circular breathing; how the heck do you do that?
Sadly, the concert was almost at an end and MacArthur Park was the final piece, but we knew there would be another one to come because Stan gave Mike a bit of stick because he had printed the encore in the programme! A few years ago, Mike`s wife, Debbie, had suggested to him that he did an arrangement of `Don`t Stop Believin` for Boobs and Brass, an appropriate title for what we are about and a very appropriate piece to close the concert with.
So in conclusion, What an evening! So full of emotion, tears and laughter, fun moments and serious moments. All bandsmen/women working together to produce a wonderful evening of entertainment.
Recently, Boobs & Brass were awarded the Radio 2 Power of Music award and I was asked what the power of music meant to me.  I think this evening just epitomised that. A hue thank you and congratulations to Mike Kilmartin for organising this event and thank you to everyone  who was part of it and for supporting Breast Cancer Now and Steven Sykes.
A truly memorable evening!
– Maggie Betts (co-founder of Boobs & Brass)